11th Annual Southborough Summer Nights is scheduled for this Saturday, August 23 from 5:00 pm to Dusk. I don't know about yours, but my family can't wait.
(Of course, I know Saturday's weather looks iffy. This Sunday is the back-up rain date, and that weather looks clear. If the event is postponed until then, I will update this post. But as of now, organizers are "ready to Rock and Roll" for Saturday!)
I will be taking photos, but I'd love to get your shots, too.
E-mail me your favorite pics from the event to mysouthborough@gmail.com. I hope to post a gallery early next week.
Now, here is the information you need.
For official brochure, click here. Click on event map below right to enlarge.
Parking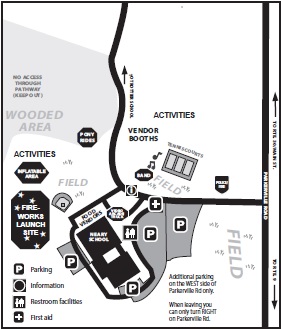 Parking is available at both Neary & Trottier Schools. (However the access road between is closed.) There is a designated drop-off/pick up site on Parkerville, and specific instructions about parking and traffic restrictions that evening. Click here for the details.
Schedule
5:oo pm – Dusk: Free kids' attractions, Booths, Raffle and Food Vendors
6:00 – 8:00 pm: Music by Better Her Than Me
Dusk: Fireworks (sponsored by Brendan Properties and Capital Group Properties)
Good news: If you had an obstructed view last year, don't worry. The fireworks will be back at the Neary Field as they had been in previous years.
Volunteering
Maybe this is one of yours or your family's favorite events. Or maybe you love seeing the happy smiling faces of town children enjoying summer's last hurrah. You can still sign up to help out. (Remember, this event isn't funded by taxes, so it relies heavily on volunteers to run it!) They could especially use volunteers for the Football Toss, Baseball Pitch and Basketball Shoot Out. You can email mshields@southboroughma.com.
Details
Free Attractions – No more Bubble Romp*, but there is plenty of other fun on tap:
Pony Rides
Children Musician
Face Painting
Inflatable Slide
Moonwalks & Obstacle Course for Younger and Older Children
Photo Booth
Rolling Video Arcade (In truck near food vendor area)
Wrecking Ball
Baseball Pitch
Basketball Shootout
Rock Climbing Wall & Football Toss
Test drive "robots" with ARHS Robotics Team (on tennis court) [I'm here and just discovered I was wrong about this activity being free. They are raising funds by selling tickets at one dollar apiece per activity. But viewing the Lego league demonstration is free.]
Food Vendors:
Pizza – Domino's
Hot Dogs, Hamburgers, Fried Dough & Cotton Candy – Dean's Concessions
Sushi – Yama Fuji
Ice cream – The Creamery – Trombetta's
Brownies – Yummy Mummy
Italian Ice – Boston Italian Ice
Booths exhibiting local businesses and organizations (many offer great freebies for the kids, so be sure to visit):
A Felting Frenzy
Middlesex Savings Bank
A Felting Frenzy
Bluesky Well-Being
Fay School
Kassatly Novelties
Little V Designs
Meininger Family Chiropractic
Middlesex Savings Bank
New England Music Academy
Next Step Living
Relay for Life
Skyrise Children's Theater
The Children's Workshop
Thirty One Gifts
Music: Picnic on Neary field while enjoying music from returning Better Her Than Me. They describe themselves as:
one of Boston's coolest, funnest, high-energy bands, playing great dance music from the 60s through the present. Top40, 80s rock, Motown, R&B, 70s funk, you name it!
Raffle: The Recreation Department will be raffling off tickets including Canobie Lake Park and Six Flags New England. Proceeds will fully support the Southborough Food Pantry.
Sponsors that are helping to make this event possible:
Brendon Properties-Fireworks
Capital Group Properties-Fireworks
St. Mary's Credit Union-Band
Eagle Leasing
Fay School
Ken's Foods, Inc.
Long Automotive Group
Marlboro Savings Bank
Middlesex Savings Bank
NECC
Phanuef Concrete Cutting
Senator Jamie Eldridge
Southborough House of Pizza
State Rep. Carolyn Dykema
The Boston Spine Group
Thrive
Tomasso Trattoria
Wee Care for Little People
* The previously popular Bubble Romp will no longer be available. So don't bother with bathing suits and towels. This is due to the Fire Department and Recreation Department's concerns about safety combined with equipment and manpower issues.
Updated (8/22/14 2:05 pm): I updated the information on the event's volunteering needs and how you can sign up.
Updated (8/22/14 4:37 pm): Under food vendors, Quizno's had to step out, so Yama Fuji took their place. And I learned about the raffle to support the Food Pantry.
Updated (8/23/14 5:25 pm): [I'm here and just discovered I was wrong about Robotics activity being free. They are raising funds by selling tickets at one dollar apiece per activity. But viewing the Lego league demonstration is free.]