Southborough seniors are invited to join a tour of the Quabbin Reservoir next month.
The tour will include some interesting history. But the main attraction is the view. After all, it is timed for leaf peeping season.
The Quabbin Foliage Tour is scheduled for Friday, October 3. The bus will leave the Southborough Senior Center at 9:00 am and return around 5:30 pm.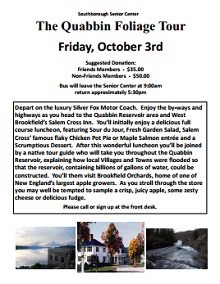 The day trip includes a luncheon at Salem Cross Inn.
Next, the group will tour the Quabbin Reservoir. A native guide will explain how local villages and towns were flooded to construct the reservoir.
Before returning, the group will stop at the store of New England's largest apple growers.
The suggested donation for the lunch and show are $35 for Friends of Council of the Aging members, and $50 for nonmembers.
To register, call the Senior Center at 508-229-4453 or stop by their front desk.