Get ready, get set and let your imagination fly for this year's Heritage Day scarecrow competition, hosted by the Southborough Rotary Club.
All you need is an idea, some imagination, old clothes and a plastic milk cartoon.
Participants can drop their scarecrows off at the Community House on Sunday, October 12 between 4 p.m. – 6 p.m. (The same night as the pumpkin lighting)
Winners will be announced on Heritage Day, Monday, Oct. 13 with prizes to be announced.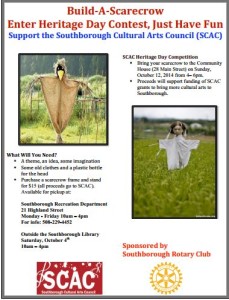 Scarecrow frames and stands are available at the  Southborough Recreation Center (21
 Highland
Street,
 Monday
- 
Friday 10 a.m. – 4 p.m.) for $15.
On Saturday, Oct., 4, stands will also be available outside the library.
Proceeds from the competition will go to the Southborough Cultural Arts Council.*
For more information about purchasing frames and stands contact the Southborough Recreation Department at 508-229-4552.
*Wondering what SCAC funds support? The group is currently seeking grant applications for 2015. Click here to learn more.