Southborough Youth and Family Services' annual Halloween Party will take place on Friday evening, October 24, 2013.
It's a month away. But if you're like me, you need a reminder that it's time to start thinking about Halloween costume shopping!
The costume party is for children 12 and under, accompanied by adults. (Though costumes aren't required, just encouraged!)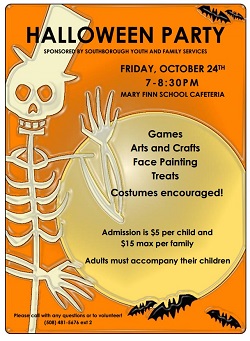 From 7:00 – 8:30 pm, Finn School will host the event in the cafeteria. 
Festivities include games, arts and crafts, and face painting.
And, of course, it wouldn't be a Halloween party without treats.
Entry costs $5 per person or $15 per family. (Admission is to cover the cost of the party.)
If you would like to volunteer to help, please call SYFS at (508) 481-5676 ext 2.