Pumpkins, scarecrows, pie eating contests, robots, inflatables, live music, children's theater, and of course the town's biggest parade. There is so much to  do this Heritage Day weekend.
Southborough Wicked Local ran a nice story yesterday on the "41st" festival. I especially liked the reference to the town parade as a "rite of passage" for young residents.
If you've never seen the spectacle, the parade is packed with town youth showing off their scout, team, or band pride. (Plus Kindergroup tots that ride along in strollers and wagons.) Many of the marching kids toss candy at the watching crowd.
To see images from last year's fun, click here. (And be sure to share your best pics from this year's activities. Email mysouthborough@gmail.com.)
Below, I've rounded up all the information you need to participate in or enjoy this year's festival.
Parade map
Whether you're marching in, dropping off marchers for, planning to watch, or trying to figure out how to commute through the Monday morning parade, you'll need the map. It includes detours and no parking zones. (Click on map to open pdf.)
16th Annual Light-Up Southborough – Sunday, October 12, 2014
Sponsored by Southborough Rotary Club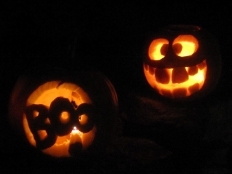 4:00 – 6:00 pm – drop-off in front of the Library:
7:00 – 9:00 pm – Pumpkin Lighting & Viewing
Heritage Day – Monday, October 13, 2014
Activities running from 9:00 am to 3:30 pm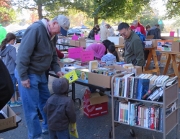 9:00 am The Friends of the Southborough Library Book and Bake Sale. Takes place in Library's parking lot and downstairs meeting rooms until 3:00 pm.
(Bake Sale contributers: Drop off at the Library on Saturday or 8-9 Monday morning. Please wrap items for individual sale.)
9:30 am  Booths and vendors open (St. Mark's Field at the corner of Route 30 & Route 85): More than 80 will be on the field this year. Among the vendors pitching food and wares, you'll also find community organization fundraisers and promotions.
(Vendors: setup begins at 7:30 am. Here's the vendor instructions.)
9:30 am Participant line-up for parade begins.
Please drop-off at the corner of Walker Street and Upland Road for lineup at St. Anne's Church. (Details and map.)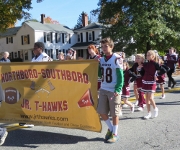 10:00 am Annual Heritage Day Parade begins – marching from St. Anne's Church, down Route 30 (Boston Road to Main Street), then turning right at the corner of 85 and heading to St. Mark's Street.
Do not pickup at the corner of Route 30. Either pickup at St. Mark's Street or in the spot your group's organizers have selected to gather after the parade. (Details and Map.)
10:00 am – 2:00 pm Scarecrow Contest viewing at Community House Lawn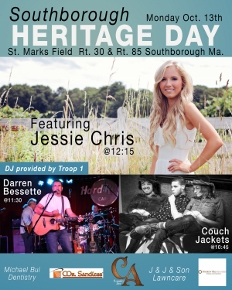 10:30 am – 2:30 pm DJ, Live Music (click on flyer to enlarge for details), Moonwalk, Obstacle Course, and Photo Booth at St. Mark's Field**
10:45 am – 2:00 pm Robotics demonstration in Community House Parking Lot. Presentation by by Algonquin Regional High School Robotics Team
11:00 am – 2:00 pm Fire Department Open House – includes Fire House tours, showing the apparatus, and interactive events for the kids. (Note: There's always risk of cancellation if firefighters need to respond to an emergency)
1:00 pm  Pie Eating Contest provided by Boy Scout Troop 92 – Near Gazebo
2:00 pm Skyrise Children's Theater Performance – Pilgrim Church Hall – Olympus: a musical parody of classical Greek mythology. The "all star" cast of children includes familiar faces from town. (Click on photo to enlarge.)
3:30 pm – Vendors close and cleanup
** DJ provided by Boy Scout Troop 1, Moonwalk by Fay School, Obstacle Course by St. Mark's School, Photo Booth by Middlesex Savings Bank, and Live Music by Couch Jackets and Jessie Chris.
Updated (10/11/14 8:30 am): Fixed the map to open correctly.
Updated (10/11/14 5:10 pm): Somehow I keep dropping the pie eating contest. I inserted it back above at 1:00 pm.