Mark your calendars and purchase tickets to the Smiling Kids Birthday Bash Gala on Saturday, Nov. 8, at Charter Oak Country Club in Hudson.
The organizers are inviting the community to support the cause while having a fun night out and getting a jump on holiday shopping.
Founded in 2003 by Southborough residents Karen and Bob Sommers, Smiling Kids seeks to give:
something everyone should be able to experience as a kid, the excitement and thrill of receiving a special gift on their birthday.
Since then, the charity has provided children and teens in need throughout Massachusetts with 10,000 gifts.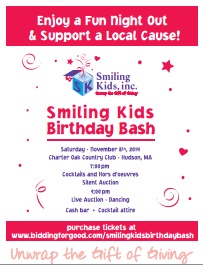 "The Birthday Bash Gala is Smiling Kids' largest fundraiser and is shaping up to be one of the best yet, " said organizer Elizabeth Masterson.
The evening includes hors devours, cash bar, dancing and a live and silent auction.
"Start your holiday shopping early and bid on fantastic items too many to list," encouraged Masterson.
All proceeds from the auctions will be used to purchase birthday presents.
Tickets are now available and can be purchased here. (Hurry – tickets are limited!)