For more than nine years, care package drives for the troops were a source of town pride. The drives brought together people from all generations, and even neighboring towns, in support of service members overseas.
With troops drawing down in Afghanastan, the final semi-annual package drive was held in May.
This fall, one of the lead organizers, Lisa Braccio, was hearing from people that they miss doing something to help. So, she reached out to Representative Carolyn Dykema, Together, they developed a plan.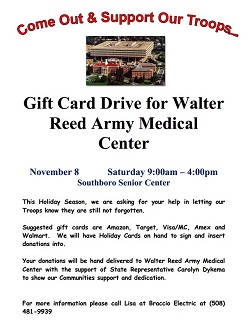 Next month, Braccio and other volunteers will be collecting holiday gift cards for patients at the Walter Reed National Medical Center.
The drive comes a few days before Veteran's Day. So it's also a great way to honor that holiday and show our military and veterans that we haven't forgotten them.
The collection will take place at the Senior Center on Saturday, November 8 from 9:00 am – 4:00 pm. You can swing by, drop off a gift card, and sign a holiday card to go with it.
For details, click on the flyer to enlarge.