[The following information is provided by My Southborough sponsor Montessori Children's House.]
If you're thinking about preschool options and want to learn more about a Montessori approach, consider attending an open house at Southborough's Montessori Children's House on Friday.
In operation for more than 30 years, Montessori Children's House provides an enriching and loving environment for parents seeking a high-quality traditional Montessori experience for their children. MCH is unique in its commitment to a small school setting where parents and teachers connect on a daily basis.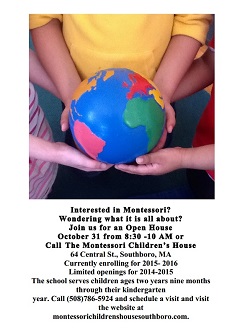 The school will host an open house for interested parents on Friday, October 31, from 8:30 to 10:00 am. The open houses are geared toward parents, so you'll want to leave the little ones at home.
Montessori Children's House, located at 64 Central Street, is accepting applications for the 2015-2016 school year (and has limited openings for this year). The school serves children ages 2.9 through their kindergarten year.
If you're unable to attend one of the open houses, call to schedule a tour at (508) 786-5924. You can find more information about the school on their website at montessorichildrenshousesouthboro.com.