Southborough Gardners' Guest Day is coming up in just two weeks. So mark your calendars, notify your friends, and email organizers for your discount tickets.
The annual holiday fundraiser will be held Thursday, November 13th, 10:00 am at Pilgrim Church.
This year's guest presenter is Nancy Vargas of Le Jardin Blanc. She will be creating arrangements in front of the crowd to demonstrate "Inspiring an Earth-Friendly Holiday Season".
Enjoy, tea, coffee and "homemade sweets & savories" while you watch. As always, there will be a drawing to determine winners of the designed pieces.
The entry fee is $10 at the door. But you can purchase tickets 1/2 price by emailing southboroughgardeners@gmail.com.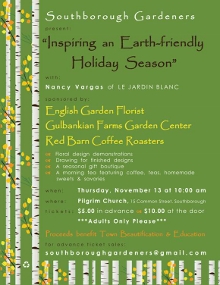 (Note: The facility is handicap-accessible; and the event is for adults only.)
The Gardeners will be holding their traditional Holiday Boutique.
I'm sure among the unique, handcrafted items for sale, you'll be seeing the above pictured tote bags. But you don't have to attend the event to purchase one.
Bags are $12 each and can be purchased by emailing DFBaker11@verizon.net or southboroughgardeners@gmail.com.
Proceeds from the event and bag sales will be used for town beautification & education.