[Editor's Note: In my events of the week/weekend posts, I accidentally listed the wrong time for this event. So, I'm re-running the post Alyssa wrote to draw attention to that!]
It's back…the Breakneck Hill Cow Fund's annual Farm Day featuring "Cow Pie Bingo" and a nature walk of the 88 acre land on Sunday, Nov. 9.
Participants can purchase squares for $20, enjoy apple cider, treats and cute farm animals as you cheer the cow to drop its brown gold on your winning square.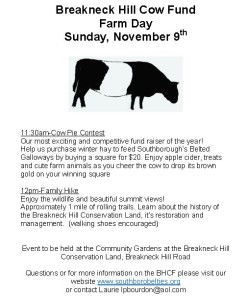 All proceeds go toward feeding the Belted Galloways over the winter.
Between the cost of hay, veterinary bills, and other expenses, the herd costs upwards of $12K to maintain annually.
Following the competition, enjoy the wildlife and views of the trail (walking shoes encouraged).
Don't miss this exciting and popular event at 11:30 a.m. at the Breakneck Hill Conservation Land, Breakneck Hill Road.
For more information visit SouthboroughBelties.org.