The first weekend in December isn't all about Christmas. There's also an event for residents who don't mind getting their hands dirty.
The Southborough Trails Committee is looking for help. Volunteers will clear the way for the rest of us to enjoy town trails.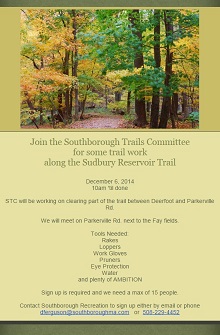 On December 6th, STC will be working to clear overgrowth on the Sudbury Reservoir Trail between Deerfoot and Parkerville roads.
The work will start at 10:00 am at Parkerville Road next to Fay fields.
Volunteers need to sign up in advance by contacting Southborough Recreation at dferguson@southboroughma.com or 508-229-4452.
Be sure to prep and dress accordingly, including work gloves, eye protection, and a water bottle.
They'll also be looking for volunteers to bring along rakes, loppers, and pruners.
Update (11/29/14 1:00 pm): Fixed contact email address.