Curtains rise on Algonquin's fall musical next week. The romantic musical comedy The Pajama Game will play Thursday, December 4th through Saturday, December 6th.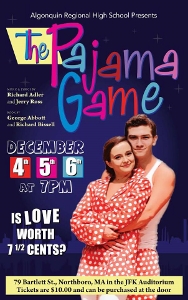 The play takes place in the high school's JFK Auditorium. At least, that's where the cast will be performing.
The story takes place in a pajama factory during a union strike.
Tickets are already available for sale at the Main Office of Algonquin Regional from 8:00 am to 3:00 pm every day as well as during all lunch periods.
Or you can try your luck buying tickets at the door on show nights.
The production has its own Facebook page. It shared that they aren't reserving tickets this year, but you can send them a message if you're having trouble getting tickets.