The Southborough Green Technology and Recycling Committee is continuing its efforts to educate the public on the impact we have on our environment.
Chair Carl Guyer will host another "400 and Rising" climate change presentation this month. The discussion will take place Thursday, January 29 at 7:00 pm at the Southborough Library.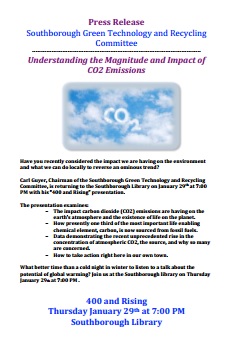 He has also shared his video of the slide show (above).
The committee's intention is to help with "Understanding 
the
 Magnitude 
and
 Impact 
of
 CO2 
Emissions".
Guyer examines:
The 
impact 
carbon
 dioxide 
(CO2) 
emissions
 are 
having
 on
 the 
earth's
 atmosphere 
and
 the
 existence 
of 
life
 on 
the 
planet.
How 
presently
 one 
third 
of 
the 
most 
important 
life 
enabling chemical
 element, 
carbon, 
is
 now 
sourced
 from
 fossil 
fuels.
Data 
demonstrating
 the recent 
unprecedented 
rise
 in
 the
 concentration
 of
 atmospheric
 CO2, 
the
 source,
 and
 why
 so 
many
 are
 concerned.
How 
to
 take 
action 
right 
here 
in 
our 
own
 town.
Guyer also shared another interesting video below, this one by by climate central.
It's a 1 minute visual demonstration of changing temperature records.
Produced in November, it refers to likelihood of 2014 breaking a new record for hottest year. That outcome was reported as confirmed this week. (See Scientific America's article):

posted to You Tube by climatecentraldotorg