Algonquin Basketball coaches and players will hold a camp for 4th – 8th grade boys and girls over February break.
The 4-day morning camp costs $100 per child. It will be run by Algonquin Regional High School's varsity coaches. It will also be staffed by additional ARHS coaches and players from both the girls' and boys' teams.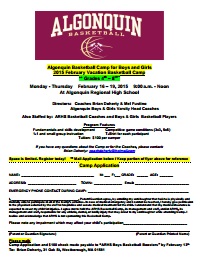 The program promises:
Fundamentals and skills development
3×3 and 5×5 competitive game conditions
1-1 and small group instruction
(and a t-shirt)
The schedule is Monday, February 16 – Thursday, February 19 from 9:00 am – noon at Algonquin.
Registration space is limited and the payment by mail due by February 13.
Click here (or on flyer) to open the printable application form.
If you have questions about the program, email coachdoherty@hotmail.com.