The Southborough Library is hosting a two part course on improving conversation skills. The workshops are for both introverts and extroverts.
Sessions take place Monday, January 26, 2014 & February 2, 2014 from 12:00 – 2:00 pm in the Eaton Meeting Room downstairs.
Participants will learn to build and polish their conversation skills "in a variety of social and business settings."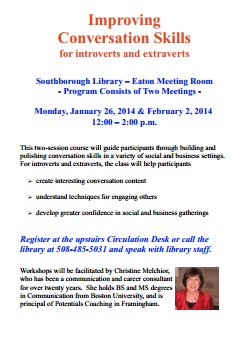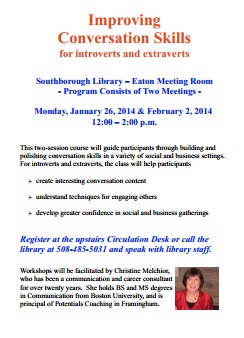 Learn how to:
create interesting conversation content
understand techniques for engaging others
develop greater confidence in social and business gatherings
You can register online through Google Forms. Or register through the library at 508-485-5031.
Workshops will be facilitated by Christine Melchior, who has been a communication and career consultant for over twenty years. She holds BS and MS degrees in Communication from Boston University, and is principal of Potentials Coaching in Framingham.