A new mom's group is starting up in Southborough. Unlike another group in town, this isn't about kids playing (or parents socializing).
This one focuses on support for mothers. Childcare is provided for the young ones, while mothers gather to share "joys and frustrations".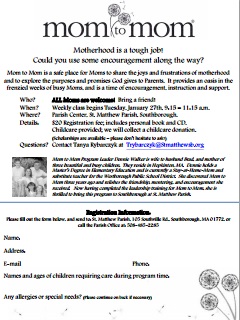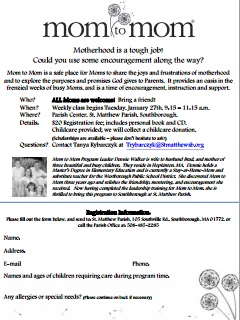 Based in a local parish, it's a Christian-based program. Classes meet weekly, beginning next Tuesday morning:
Moms, do you need a time out?  A new mom's group is starting on Tuesday, January 27th at St. Matthew Parish at 9:15 a.m..

Mom to Mom is a nationally recognized Christian-based program that gives Moms a safe place to share the joys and frustrations of motherhood.

It provides an oasis in the frenzied weeks of busy moms, and is a time of encouragement, instruction and support.

For more information, contact Tanya at Trybarczyk@stmatthewsb.org
For more details, or to register, click on the above flyer to open the printable pdf.