A recent Community Advocated story about a family in town seems appropriate after the "Blizzard of 2015".
The CA story profiled the Braccio family. Many of you may be familiar with them from Lisa's organization of the Troop drives. This story covers another effort the whole family is involved in – the Southborough Community Emergency Response Team (CERT).
According to the article, their involvement is led by Matt, but includes both Lisa and their 12 year old son Robert.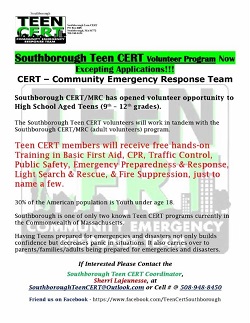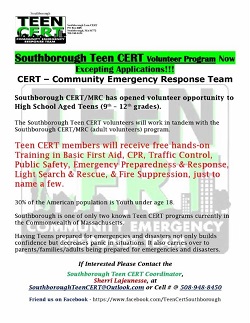 It reminded me of a Town announcement that I forgot to share earlier this fall about their Teen CERT program.
The Town emailed out a notice to residents that they were recruiting teen volunteers for a special CERT program. The announcement stated "Southborough is one of only two known CERT programs" in the state.
The advertisement for 9th-12th grade volunteers pitched:
Having Teens prepared for emergencies and disasters not only builds confidence but decreases panic in situations. It also carries over to parents/families/adults being prepared for emergencies and disasters.
If you are interested in more information on that program, click the above right flyer to enlarge.
Of course, CERT is also always looking for adult volunteers for their organization and the Medical Reserve Corps (MRC). Click here for more information.
As for the Braccio's involvement in CERT, CA wrote:
Matt became interested in joining CERT after a major snowstorm several years ago, when he saw how undermanned the police and fire department were.

"I wanted to find a way to help," he said.

CERT trains volunteers in basic disaster response skills and how to provide assistance and support to professional responders. Volunteers participate in mock disaster drills and attend ongoing safety education.

For Matt, an electrical contractor, safety is always a concern. He recalled a storm that occurred around Halloween of one year, in which downed wires were everywhere in town.

"I was worried about kids being electrocuted," said Matt, who worked to get wires off the roads and helped maintain non-hazardous access for the public. He acknowledged that his background as an electrician has been useful on several occasions.

"As members of CERT, we really feel welcomed and appreciated by the fire and police departments," he added. "Really part of the team."

The Braccios, including son Robert, also volunteer as family team for non-emergency CERT situations, such as directing traffic at road races or local events.

Lisa and Matt said that Robert, whether helping out at the care package drive or with traffic control for CERT, loves to volunteer.

"We want Robert to know that it is good to give back," Lisa said.

Matt agreed.

"We're trying to instill in our son that we have to help where we can help," he said. "And that's what it's all about."
For the full CA story, click here.
Updated (1/28/15 6:45 pm): Huge faux pas! I gave the wrong last name. I referred to the family as the Capello's. Somehow I got those Lisa's confused in my brain. 2nd very embarrassing recent name snafu.
I'm definitely getting older.
My deep apologies to the Braccios.