Next week, Neary School students will perform School House Rock Live! Jr..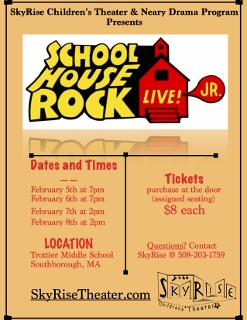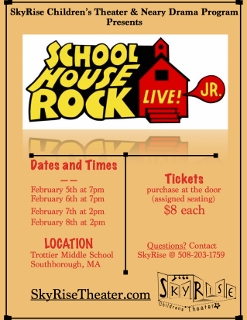 The performance will take place on Trottier Middle School's stage beginning next Thursday:
Thursday, February 5, 2015 @ 7:00 pm
Friday, February 6, 2015 @ 7:00 pm
Saturday, February 7, 2015 @ 2:00 pm
Sunday, February 8, 2015 @ 12:00 pm
Tickets to assigned seats will be sold at the door for $8.00 each.
The Neary Drama Department production is through Skyrise Children's Theater. (Click flyer to enlarge.)
Just hearing the news got me humming, "Cunjunction Junction". So, I was especially excited to find this rehearsal video for the number below on Skyrise's site. 
Enjoy!
Updated (2/8 11:06 am): Today's performance moved up to noon.