Alqonquin Youth Wrestling Clinic is promoting its spring session for girls and boys from 4th to 8th grade.
The clinics start March 9th and will run on Monday and Thursday evenings through April 16th.
Organizers encourage that no wrestling experience is necessary. And if your kids never considered wrestling as a sport, here's why they should:
Develop balance, flexibility, coordination, body awareness and self confidence through high energy, fun filled sessions.
The clinics will be run by ARHS varsity coach Brian Kramer with help from some members of the team. That team has been having a  great season. And many of their wrestlers started out in this program (including three headed to state championships this week.)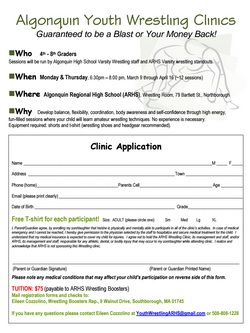 The cost is $75 for the twelve 90 minute sessions. All proceeds directly support the Wrestling Boosters at ARHS.
To register, mail in the registration form. If you have any questions, you can email youthwrestlingARHS@gmail.com or call Eileen Cozzolino at 508-808-1228.
For more details and the registration form, click the flyer to open the pdf.