The annual Spelling Bee is happening this Friday night. But you don't have to wait until then to check out, and even bid on, the silent auction prizes.
The Southborough Education Foundation has set up a website to start online bidding on silent auction items.*
New on offer this year are Courtside Celtics Tickets and an Ultimate Ladies' Night Out Entre Nous Beauty Package for 6 with Limo and Dinner at Craigie On Main in Cambridge.
Popular items returning this year are: Bruins Tickets with Autographed Stick, a Lisa Tommaney Signature Portrait Photography Package, a 2-Night Stay at the Ocean House in Rhode Island, and a week at Fay Discovery Camp.
You can check out the details and start bidding, here.*
Keep in mind, the silent auction only makes up part of the evening's prizes. You'll also want to come prepared to buy tickets to the annual raffle.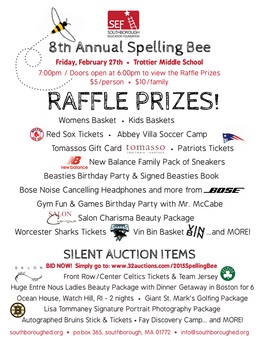 This year's raffle prizes include Red Sox and Patriots tickets, a birthday party, a family pack of New Balance sneakers, a beauty package, gift cards, a camp, and baskets.
Of course, all proceeds go to SEF for their work supporting educational programs and resources for our public schools. (Read their blog profile to learn more.) 
The doors open early on Friday night at 6:00 pm. That gives you an hour to make final bids and put in your raffle tickets before the Bee begins at 7:00 pm.
(If you are looking for more information on the Spelling Bee, click here for the dedicated post.)
*The online portion of the silent auction will close on Thursday, February 26th at midnight. The leading bids from the online auction will then be transferred to the live auction that will continue at the Spelling Bee on Friday, February 27th from 7:00 pm – 9:00 pm at the Trottier Middle School.