Southborough Recreation is sporting new rides for kids. The bikes are designed for developmentally disabled children ages 5 – 14:
These two bikes are able to be quickly adjusted in several ways to accommodate children of all sizes. They are light-weight in design and allow students who are not able to ride a traditional two-wheeled bicycle an opportunity to pedal and propel a safely designed bike to the best of their abilities.
For families interested in checking them out, Southborough Rec will hold a "Test Ride" on Wednesday, March 11 from 3:00 – 4:00 pm. Drop by the 2nd floor of the South Union Building at 21 Highland Street.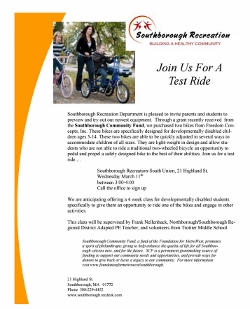 The Freedom Concepts bikes were purchased through a grant from the Southborough Community Fund.
The Rec Department hopes to make great use of the equipment going forward.
Next up is likely a class for developmentally disabled students. Activities would include the opportunity to ride the bikes.
That class is still in the planning stages. (To learn more, click the flyer to enlarge.)
Updated (2/25/15 10:08 am): The test ride will be indoors.