Southborough Kindergroup's Easter Egg Hunt has become a fun community tradition. Children rush around the lawn scooping up plastic eggs. Babies toddle along, then plop down to inspect their plunder.
Some details have changed over the years. This year will see at least one big one (and possibly another).
The hunt is free this year. So, no pre-registration is necessary. Just save the date, Saturday April 4th, and show up with a basket!

(You are also encouraged to show up with an item for the Food Pantry.)
The event is annually held on the Community House lawn. It wouldn't be the first time kids showed up there in boots, but it could be the first time for snow boots if the snow takes too long to clear.
More likely, if the lawn is too much of a mess (or it rains) the event will be moved to a gym for the first time.
Fay School has again offered their Harlow Gym as a backup plan.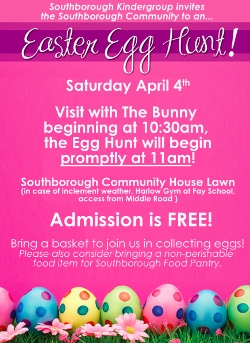 (I'll keep you posted on that closer to the date!)
Festivities will begin at 10:30 am with the chance to take pictures with the Easter Bunny. (Bring your own camera!)
The "hunt" (really more of a plunder) begins at 11:00 am. (Bring your own basket.)
See you there!
Updated (3/13/15 10:56 am): Fixed date in headline.