A charity with local links is holding a A Day at the Derby on Saturday, May 2nd.
The "Derby" will run from noon to 4:00 pm in Ashland. To get in the spirit they are encouraging ladies to don derby hats and fellows to dandy up with a bowtie.
The fundraiser is for KeepSmilin4Abbie.org. (As you may recall, the charity is a tribute to the life of Abbie Benford.)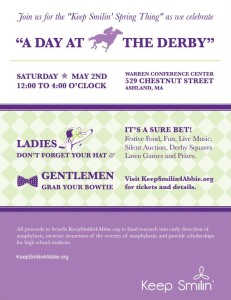 Funds raised are to help with early detection of anaphylasis, increased awareness of the severity of anaphylaxis, and scholarships for high school students.
In Abby's spirit, the charity's fundraisers have focused around enjoying life. This one is no exception.
Festivities include food, live music, silent auction, "Derby Squares", lawn games and prizes.
The Derby will be held at Warren Conference Center, 529 Chestnut Street, Ashland. To buy tickets, click here.