If you're a volleyball enthusiast, here are some options for fun this spring and summer. Programs/resources cover all ages. (Click "flyers" below to enlarge.)
New in May are two sessions of "Chair Volleyball" for Seniors. Those games will be held by the Southborough Senior Center on May 1st and 8th at 11:00 am. 

(Someone PLEASE send me a picture of that fun!)

For more agile players – The town is continuing to offer their "drop-in" volleyball games for $3 ea/per session through June 10th.
That's open to anyone high school aged and older who wants to take part in a pickup game.
It takes place Wednesdays from 6:00 – 8:00 pm at Woodward School gym.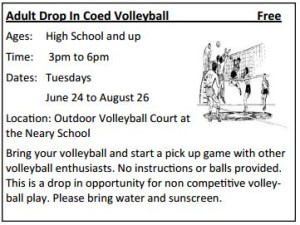 In the summer, the progam will move to the sand court at Neary School's recreation field. Those games will be Tuesday afternoons from 3:00 – 6:00 pm for free.
Speaking of the Neary sand court – that's the third option.
Any one, young or old can take advantage of the court. Two player can practice their volley. Or a group of friends can organize a pickup game.
As long as it isn't in use (and not during school hours) the court is open to any resident for free recreation.