This Friday, St. Anne's parish will be holding a benefit for their sister parish in Haiti. By the sound of things, it should attract a different audience than the average church concert.
Organized by young members of the parish as a service project, the concert will feature young rockers and rappers.
The event opens at 7:00 pm with high school rock band Indignous. (The group already has a studio album under their belt. This concert will be recorded for a new live album.)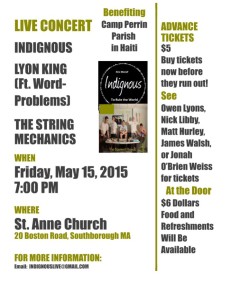 Next up will be rapper Lyon King. Part of King's act feature rapper Word Problems.
Finally, parish intern Paul Reuter's rock band String Mechanics will play. (An earlier incantation of the band was Rhed, which has played the area for a few years. They've had some changes to members including a new singer and the introduction of a viola.)
Tickets will be $6 at the door. (Or $5 in advance if you buy through one of the contacts listed on the flyer.)
If you have questions email indignouslive@gmail.com.