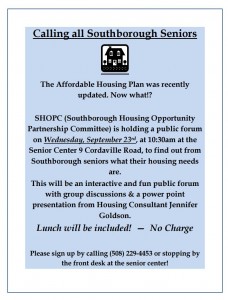 SHOPC (Southborough Housing Opportunity Partnership Committee) and the Planning Board are holding a public forum to investigate residents' needs for senior housing. It includes a presentation by the Town's housing consultant.
The forum is scheduled to be held at the Southborough Senior Center this Wednesday, September 23rd, at 10:30 am.
(As an incentive, they are offering a free lunch.)
Sign up by calling (508) 229-4453 or stopping by the front desk at the Senior Center.
(Click flyer to enlarge)
The purpose is to hear from seniors in town about their housing needs. But the forum is open to all residents.
As Town Planner Jennifer Burney wrote:
Did you know the first baby boomers turned 65 in 2011?

Did you know that in 2010 1 in 10 people were 65 and by 2030 1in 5 will be over 65?
Did you know that in 2040 1 in 8 people will be over 75 compared with 1 in 16 today?

How will Southborough plan for baby boomers and our aging community? What are some of the issues seniors are facing today and in the future?

Most existing housing stock is unprepared to meet the needs of our seniors and baby boomers. 

Housing that is affordable is limited. Many seniors have to move to other towns, away from the community they have raised children in and have a network in place.

We need housing that provides for accessibility, social connections and access to supportive services and provides access to transportation for seniors unable to drive instead of seniors living in isolation.
For her full post, click here.