The Economic Development Committee and Southborough Library are working together to support local business.
The EDC announced that on Tuesday, October 6th, they are kicking off
a FREE in-library start-up incubator, aimed at supporting local businesses and entrepreneurs as they jump-start their companies.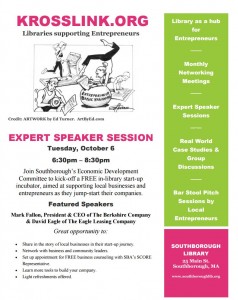 The committee is making use of support from Krosslink.Org (a volunteer-driven program to foster "Libraries Supporting Entrepreneurship").
The launch event will run from 6:30-8:30 pm. It includes speeches by business experts from The Berkshire Company and Eagle Leasing.
It's also an opportunity for networking and t0 sign up for a free business counseling session by SCORE volunteers.
(Click here for past coverage of SCORE's resources for Southborough businesses.)
For more detail on the Krosslink.Org partnership and October 6th event, click the flyer.