Shayna Rose, Southborough's 3rd grade celebrity interviewer, has been at it again. The reporter's latest get was a quick interview with former Secretary of State/First Lady/Senator, Hilary Clinton. (I'll share that below.)
But her biggest news is the announcement of a new gig. In addition to her newsletter, Rose is now a reporter for cable sports station NESN.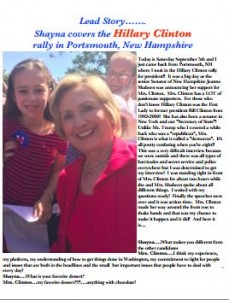 Rose has joined the team on NESN Clubhouse, a sports news show for kids, "where kids run the show".
Her first report is scheduled to run this coming Sunday during their 11:30 am broadcast. You can watch that on Verizon channel 76 or Charter 37.
The position will likely be helpful as Rose lines up her next expected interview with "The Gronk", Patriots tight end Rob Gronkowski.
You can keep up with Rose's interviews and photos on her Facebook page, The Rose Reporter.
For a look at her interview with the Democratic presidential candidate front-runner, click here.