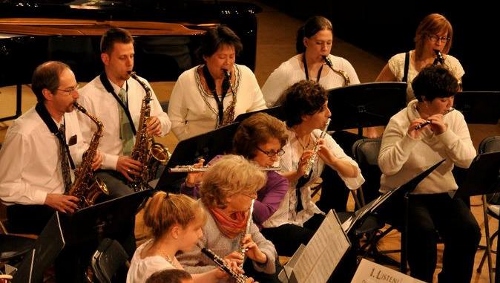 Is your flute buried in the back of a closet? Has your trombone case been gathering dust?
If you are looking for a chance to pull them out again, look to the Interboro Community Band.
The Interboro band brings together adults and young adults from the community to play beautiful music.
It's open to anyone grades 9 through adult who can play high school level music.
The group asked me to share the information on their new season:
The Interboro Community Band is looking for musicians who play at the high school level or above and who would like to join a fun, relaxed community ensemble. Perfect for people who have jobs and lives and still want to play their instrument. We're in particular need of woodwind players, but all instruments are welcome.

Players from all areas are welcome! You do NOT have to live in a "boro" to participate! Feel free to sit in on a rehearsal or two to see if it's a good "fit". 

We rehearse on Monday nights from 7:30 to 9:15pm at the Trottier Middle School in Southborough. We typically perform 2 concerts each season: one around or soon after the holidays at Trottier and an outdoor Wednesday evening concert in June at the Willows in Westboro. Check us out on Facebook or our website https://sites.google.com/site/interboroband, or email Sue at membership.ibb@gmail.com!