If you were thinking of heading out of town for Columbus Day weekend, you may want to reconsider. Southborough's Heritage Day "Eve" is shaping up to be a holiday all its own.
Chestnut Hill Farm is launching a free festival that Sunday, October 11 to tie in with Heritage Day and the annual "pumpkin wall" the night before.
This revitalization of the farm's historic festival will include activities for all ages. . .
Prepare your pumpkin for the town's lighting that evening!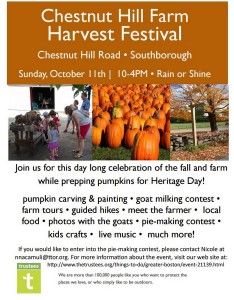 Pumpkins are just a small part of the activities scheduled scheduled. The festival is from 10:00 am – 4:00 pm and includes:
face painting
pumpkin carving and painting
goat milking contest
pie-making contest
get your picture taken with goats!
farm tours
guided hikes
meet the farmer
local food
live music
To enter the pie-making contest, please contact Nicole at nnacamuli@ttor.org or 508.785.0339 x3003.