I'm rounding up a few news items and events that parents may want to know about.
The Northborough Southborough Special Education Advisory Counsel has several programs coming up.
As I posted previously, their annual Welcome Back Night gathering is tonight, Friday, September 25 at 6:30 pm. That takes place at Algonquin.
The monthly Coffee and Connect series also kicked off this month and continues on October 7th from 10:00 am – noon at the Southborough Library.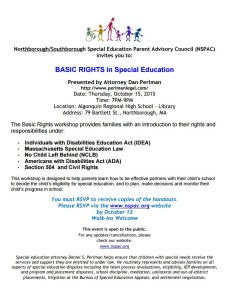 For more information on those programs, click here.
NSPAC has also announced their upcoming BASIC RIGHTS in Special Education Workshop. That will take place on October 15 from 7:00 – 9:00 pm at Algonquin. Click on flyer for more details.
The advisory committee isn't the only thing in the works for families of children with special needs. Town Recreation has been making an increased effort to offer programs and resources.
The department has purchased two special adaptive bikes. One is being put to use at town schools. Another will be used in upcoming programs. One of those is a PEP (Physical Education Program)
One deadline has already passed, but another is scheduled to being in November:
Adaptive PEP (Physical Education Program) – $40/pp
Ages: K to Grade 8 with development disabilities
Session 2 – Nov 5, 12, 19, Dec 3, 10
Location: Trottier Gym
Adaptive sports enhances the quality of life of people with disabilities through exceptional recreational activities. A different activity will be introduced each week focusing on fitness, health, and wellness. Whether it is bicycling, aerobics, basketball, or soccer, those living with disabilities after illness or injury can rebuild their strength and sense of independence while they increase body awareness, build self confidence, learn new life skills, and even make new friends.
Please contact Southborough Recreation if you are interested in being a volunteer buddy for this program.
Adaptive Swim is another offering Town Rec made available for registration at the end of summer.