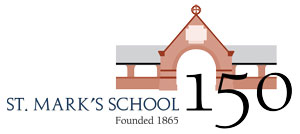 St. Mark's School is proud to be celebrating its sesquicentennial.
(That means 150th anniversary.)
This weekend is their big celebration with families and alumni. They are inviting the community to join them for fireworks and to cheer on athletes. [Note: With so many visitors this weekend, they can't offer us parking for the fireworks. But they should be visible from downtown. And parking is available at Woodward School.]
Of course, pyrotechnics and outdoor events are subject to mother nature's whims! But organizers are keeping their finger's crossed. (The weather service give them a 50% chance of no rain on Saturday.)
The announcement comes with some warnings about the impact on residents. Most notably, traffic on Route 85 Friday and Saturday evenings. Trails around the school will also be closed Saturday afternoon.
Here's the invitation:
On October 2nd -3rd, St. Mark's will be celebrating its sesquicentennial. The celebration will include two days of high school athletic competitions with accompanying tailgate party, a ribbon cutting ceremony to celebrate completion of our STEM facility, a TEDx conference and a gala complete with fireworks. The School expects over 1000 alumni, parents, faculty and students will be on campus to be a part of this historic occasion. As is always the case, residents are welcome on the sidelines to cheer on our student athletes during the various sporting events. 

The fireworks display, which is scheduled to begin around 9:30pm Saturday evening, promises to be spectacular. To prepare for the fireworks, trails around the school will be 'closed' after noon on Saturday. We also anticipate that traffic will be heavy on 85 and Main on Friday from 4:00 pm to 8:00 pm and on Saturday from 5:00 to 7:00 pm.

If you have any additional questions regarding this event, please contact Lori Karlsson at 508/786-4031.
Updated (9/30/15 4:21 pm): St. Mark's School asked me to clarify that they can't offer public parking for the fireworks, but you are welcome to view them from downtown after parking at nearby Woodward School.