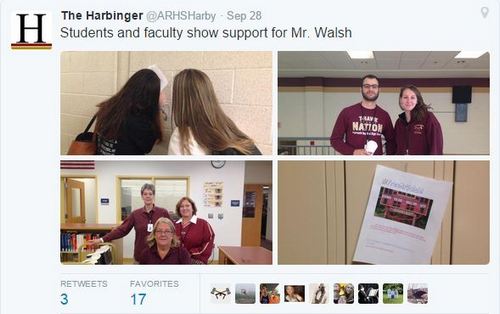 It appears our high school has been all atwitter with (possibly inaccurate) news that longtime school employee Dick Walsh was being forced out. An online petition claims that the former T-Hawks coach was banned from the building:
Mr. Walsh was banned from Algonquin which we feel is horrible considering how well known he is, the football field being named after him, and the amount of respect he has in the school. Sign this petition to lift his banning from the school. #FREEWALSH
Yesterday, Algonquin's newspaper posted that former T-Hawks coach and faculty member Dick Walsh "will no longer have an active role in the ARHS building."
The Harbinger report covered ARHS faculty's honoring of Walsh's 61 years of service:
Students, faculty, and administration dressed in maroon and gold to commemorate and honor Dick Walsh on September 28. . .

Social studies teacher Gina Johnson organized a faculty meeting outside the rotunda to create a video and take pictures for Walsh. Teachers held banners that thanked Walsh for his years of service to the school.
As  of Monday, the petition supporting Walsh had 750 "signatures". Several community members showed support for Walsh through twitter, some with disbelief and anger.
Tonight, Superintendent Christine Johnson responded to inquiries of concern about the situation. According to the statement, while his job has changed, he wasn't banned:
I met with Mr. Walsh on September 18, 2015 to discuss recommendations made to my office, which included a shift in his responsibilities as an employee of the District.  Mr. Walsh also provided volunteer services in the cafeteria, which are no longer required due to a change in supervisory roles at Algonquin.  Mr. Walsh maintains full access to the campus as required and continues to be present in the building as he fulfills his assigned responsibilities.
The superintendent's full statement is below. For the Harbinger story, click here. (You may also be interested in this 2012 profile on Walsh's ARHS coaching career by the Community Advocate.) 
Good evening –

As Superintendent of Schools, I believe it is important to address the concerns expressed by students, staff and the greater community regarding Mr. Richard "Dick" Walsh and his role at Algonquin Regional High School. Mr. Walsh is a respected member of the Algonquin – Northborough-Southborough School Community. He began his career in our District in 1955 and officially retired in 1995 from his position as a physical education teacher. In addition to his teaching assignments, he served as coach, athletic trainer, athletic director and faculty manager.

Since his retirement, Mr. Walsh has taken on a number of roles as assigned by principals and administration such as testing proctor, athletic program assistant and other general operational and athletic activities. Most recently, a recommendation was made to support the shift of his day-to-day contributions to his area of excellence. As such, Mr. Walsh will continue to guide our students in his current role within the athletic department. It is a privilege to continue to collaborate with Dick Walsh. We look forward to seeing him on the Richard Walsh Athletic Field celebrating T-Hawk Nation.

I met with Mr. Walsh on September 18, 2015 to discuss recommendations made to my office, which included a shift in his responsibilities as an employee of the District. Mr. Walsh also provided volunteer services in the cafeteria, which are no longer required due to a change in supervisory roles at Algonquin. Mr. Walsh maintains full access to the campus as required and continues to be present in the building as he fulfills his assigned responsibilities.

I have received numerous inquiries from concerned and caring students, staff and community members regarding his continued involvement at Algonquin Regional High School. I have shared this information with callers and requested that students and staff meet with the building principal. I welcome an opportunity to meet with students and community members should the principal not be available or if concerns continue. I applaud the students' advocacy on behalf of Mr. Walsh and fully appreciate the important role he has played in their lives and the lives of many members of our community.

Respectfully,

Christine M. Johnson
Superintendent of Schools