The Southborough Senior Center is hosting a presentation by the MWRTA* this week.
Presenters will explain how non-driving seniors can take advantage of inexpensive, door-to-door services for shopping, medical appointments, and the Senior Center.
And they're throwing in a free lunch for seniors.
I can't help but wonder how non-drivers who aren't using MWRTA services will get to the event! But perhaps a friend or family member can help out.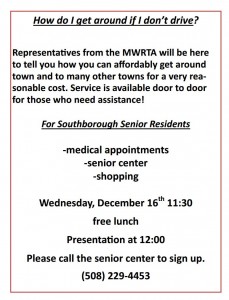 The talk is this Wednesday, December 16 at noon, following the 11:30 am lunch.
Please call to pre-register through the Senior Center at 508-229‐4453.
If you can't make it that morning, you may want to check out MWRTA's website for information on transportation for seniors and residents with disabilities.
*MWRTA=Metrowest Regional Transportation Authority