St. Mark's School is opening its doors to the public again for free skating over the holidays. Check out the schedule for this Sunday through January 3rd.
It's followed by another chance on January 18th, and finally the week of February 16th.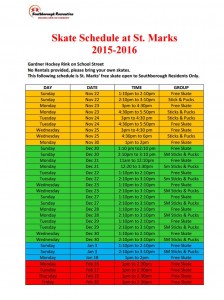 Sessions alternate between Free Skate and Sticks and Pucks times.
St Mark's Gardener rink is inside the Michel Faculty Athletic Center. It can be accessed off School Street (map).
Admission is free, but there are no rentals, so you'll need to bring your own skates.
For details, click the flyer to enlarge.