This just in – According to an email sent last night, there is still (a very little) time to sign up for next week's Basketball Clinic.
Algonquin will hold a camp for 3rd – 8th grade boys and girls over Christmas break.
The 4-day morning camp costs $100 per child. It will be run by Algonquin Regional High School's varsity coaches. It will also be staffed by additional ARHS coaches and players.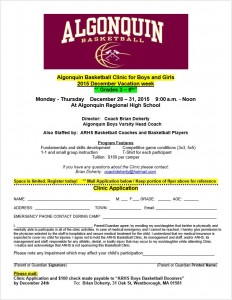 The program promises:
Fundamentals and skills development
3×3 and 5×5 competitive game conditions
1-1 and small group instruction
(and a t-shirt)
The schedule is Monday, December 28 – Thursday, December 31 from 9:00 am – noon at Algonquin.
Registration space is limited and the payment is due by mail tomorrow! (Have questions about the program or registration email coachdoherty@hotmail.com.)
Click here (or on flyer) to open the printable application form.