Here are the masses and festivities planned by churches in town for Christmas Eve and morning.
Christmas Eve Services
Today – Thursday, December 24, 2015:
St. Anne Parish (website)
Christmas Mass: 5:00 and 11:00 pm
Anyone who would like to sing Carols at their 11pm Christmas Eve Mass is welcome to join them at 10:30 pm for a quick rehearsal, and then participate in the Liturgy. All are welcome!
First Community Church (website)
Christmas Eve Candlelight Service: 6:30 pm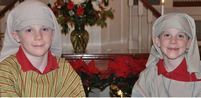 Pilgrim Congregational Church (website)
Pageant Service 6:30 pm
Candlelight Service 10:00 pm
Jesus' birthday party 11:00 pm
St. Mark's Episcopal Church (website)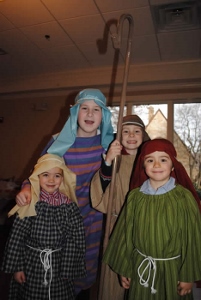 Children's Christmas pageant with Eucharist: 4:00 pm
Festival Holy Eucharist with choir at Christmas Eve at 10:00 pm (music prelude begins at 9:45 pm)
Saint Matthew Parish (website)
Children's Pageant/Organ: 4:00 pm
In the parish center – Piano and Cantor: 4:00 and 5:30 pm
Organ, Trumpet and Cantor: 5:30 pm
Brass Quartet Concert: 9:00 pm
Christmas Eve Mass: 10:00 pm
Christmas Day Services
Friday, December 25, 2015:
St. Anne Parish (website)
Christmas Mass: 8:30 and 10:30 am
St. Mark's Episcopal Church (website)
Holy Eucharist with carols: 10:00 am
Saint Matthew Parish (website)
Mass without music: 7:30 am
Organ and Cantor: 9:00 and 11:00 am