The Southborough Senior Center's Trailblazers are planning hikes, snowshoeing, and possibly Cross Country Skiing for this winter. Next up is this Monday, January 11th, at Chestnut Hill Farm. (Given the forecast, it seems snow shoes won't be in order for that one.)
On January 26th, Trailblazers will head to Hopkinton State Park.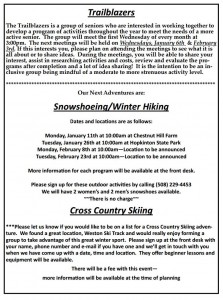 After that, locations are to be determined. But interested seniors can help them make those calls by joining their meeting this afternoon.
The group meets the 3rd Wednesday of each month, 3:00 pm at the Senior Center. Any senior resident is welcome to join them.
To sign up for one of the hikes/snowshoeing* events, or let them know you're interested in Cross Country Skiing, call 508–229-4453. For more information, click on the flyer to enlarge.
*According to the flyer, the group only has 2 women's and 2 men's snowshoes available at this time. (Lets assume they mean pairs!)