Southborough officials are preparing to update the Town's Open Space and Recreation Plan. But first, they want to hear from you.
Do you have a strong opinion on what recreation facilities the town needs?
Are you a big proponent of Open Space?
Or perhaps you're just interested in learning what the Town has in mind.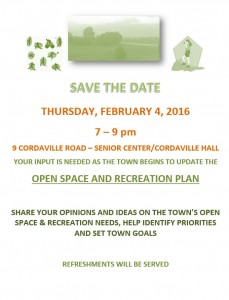 On Thursday, February 4th, the Town is asking residents to come out and weigh in:
Share your opinions and ideas on the town's open space & recreation needs, help identify priorities and set town goals
The event will be held at 9 Cordaville Road (the Senior Center/Cordaville Hall) from 7:00 – 9:00 pm.
Refreshments will be served and input sought.