Neary SOS is holding its annual Noodle Night fundraiser on Friday, February 5.
This year's entertainment includes math and engineering challenges to engage students and parents. That includes "The Great Egg Drop" and "Are you smarter than a Neary student?".
Of course, as the name suggests, the night revolves around a pasta dinner. And organizers have lined up a great mix of offerings from popular area restaurants:
Meatballs from Tomasso's and Allora's
Rolls from Bertucci's
Pasta from Arturo's
Salad from Uno's, and more
Entry costs $5 per person or $20 per family. Raffle tickets for "fantastic family packages" will also be hocked that night.
Registration for one of the three sessions is due this Friday. (Click here to open the printable form. It's missing the choice to circle for session 3, but you can always write that in!)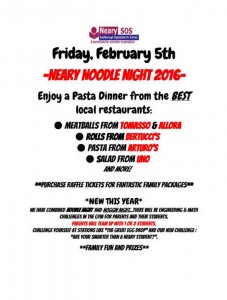 The event is broken into three session times:
Session 1: 5:00 – 6:30 pm
Session 2: 6:00 – 7:30 pm
Session 3: 7:00 – 8:30 pm
If you have questions, please email nancy@nancygould.com.
If you'd like to volunteer to help, click here to sign up online.
Organizers are seeking help with food pickup and prep chores, collecting tickets, and more.