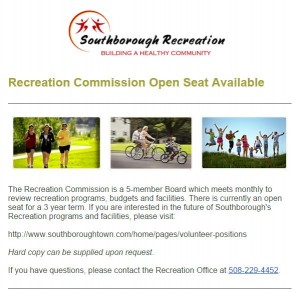 Southborough Recreation is looking to fill a vacancy on their commission. The commission is responsible for reviewing programs, facilities, and budgets.
Board members priorities are likely to be important as the department updates the Town's Open Space and Recreation plan. (A public forum for resident feedback has already been announced for next Thursday.)
Last night, Commission Chair Brian Shifrin and Department head Doreen Ferguson were in front of the Planning Board for permission to replace the lights at Choate Field.
The field is located in front of Woodward School. It accommodates soccer, baseball, basketball, and even a skating rink.
Problems with the 40+ year old lights left soccer teams often practicing and playing in the dark or with poor lighting from mobile lights this past fall.
After Shifrin made some concessions for neighbors, the Planning Board gave the project a green light. The new lights should be installed this spring. 
Higher poles and new lights should provide much better coverage. Meanwhile, shields directing the light to the field, new timers, and remote operation should greatly reduce the "light pollution" abutters currently experience.
If neighbors experience issues, they can contact the Recreation Department to request lighting adjustments. If neighbors continue to have concerns, after a year has passed the Commission will hold a meeting to work through issues.
Residents interested in joining the Recreation Commission can fill out an online a form here. (Be sure to also submit a resume. If there isn't an online option, you can email it to selectmensoffice@southboroughma.com.)