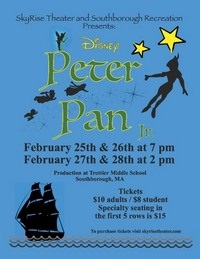 Here are just some of the elements necesary to make Peter Pan fly: 50+ students, a bunch of "Yo Ho"s, a sprinkling of pixie dust, and about four months of rehearsals.
Now add in an audience with imagination. Hopefully, it equals a good time for all.
Southborough students will be performing Peter Pan Jr. next month. The reserved seat tickets are already on sale online.
The Skyrise Children's Theater production will be put on by 4th & 5th graders, mostly from Neary School.*
As in past years, performers were split into two casts, each putting on two shows.
The performances run Thursday, February 25 – Sunday, February 28 in the Trottier Middle School auditorium.
Cast Pan**
February 25th @ 7:00 pm
February 27th @ 2:00 pm
Cast Hook**
February 26th @ 7:00 pm
February 28th @ 2:00 pm
To reserve seats and purchase tickets, click here.
*The Neary drama program is a special after-school offering through Southborough Recreation. It is geared to Neary students, but open to any 4th & 5th grade residents.
**Looking to make sure you attend the show with your friends and family? Click here for the cast lists. (Cast Pan has been rehearsing on Wednesdays. Cast Hook has been rehearsing on Fridays. )