Have you ever heard of a limo service that takes you anywhere you want in Southborough and 11 other towns* for just $2 per trip?
It's not for everyone. But for Southborough seniors (age 65+) and for people with disabilities, the MWRTA is providing door-to-door transportation.**
The bus trips are unrestricted within a dozen towns at just $2 each way ($4 round trip). So you can use it for shopping, visiting friends, club meetings, or trips to the library/senior center. (Or anything else you can think of within reason. Just don't ask the bus to act as your getaway car!) 
Two bordering towns aren't in that zone (Westborough and Northborough). But they are among 18 area towns covered at $3 per trip for medical appointments (or "special request approved in advance").***
And passengers heading to medical appointments in Boston, Worcester, Brookline, or the VA Hospital in Jamaica Plain can get there for $5 per one-way trip ($10 round trip).
It's not spontaneous like Uber. You will need to plan ahead and reserve your trips 48 hours in advance.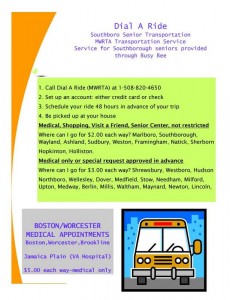 For the first trip, you'll also need to setup an account with the MWRTA using a check or credit card.
Still, you can't beat the rates!
For more details, click the flyer to enlarge. And for even more details, visit the MWRTA website.
* $2 unrestricted zone covers: Southborough, Marlboro, Wayland, Ashland, Sudbury, Weston, Framingham, Natick, Sherborn, Hopkinton, and Holliston.
** The service is open to qualifying residents of Southborough, Ashland, Marlborough and Wayland. (Not sure if your disability is covered? Contact the Metrowest Call Center at 508-820-4650 for eligibility requirements.)
**$3 restricted zone covers: Shrewsbury, Westboro, Hudson, Northboro, Wellesley, Dover, Medfield, Stow, Needham, Milford, Upton, Medway, Berlin, Millis, Waltham, Maynard, Newton, and Lincoln.