Updated (2/8/16 9:15 am): The Senior Center is closed today due to the forecasted weather conditions. When I learn if this is rescheduled, I will let readers know.
– – – – – – – – – – – – – – – – – – – – – – – – – – – – – – – – – – – – – – – – – – –
The Southborough Senior Center is holding a free seminar to help families effected by Alzheimer's. The session is for those living with a loved one who has been diagnosed with the disease.
The session takes place next Monday, February 8 from 10:00 am – 2:30 pm. There is no charge for people caring for their loved ones at home.
Participants will earn several important strategies for living with and supporting loved ones with Alzheimers. The focus is training to use the I'm I'm Still Here™ approach:
The I'm Still Here™ philosophy provides a proven method for increasing quality-of-life while reducing the behaviors that caregivers often find challenging. In this four hour innovative training session, caregivers will learn how to use Hearthstone's time-tested methods to create strategies for successfully caring for and engaging their loved ones at home.
The session is sponsored by Hearthstone Alzheimer Care, Southborough Senior Center and The I'm Still Here Foundation.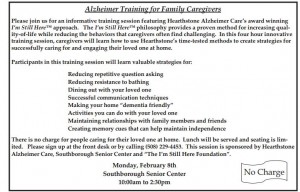 Lunch will be served and seating is limited. Please sign up by calling 508-229-4453.
For more details, click on the description right, from the Senior Center newsletter.