Southborough Recreation will soon be offering a new program before school.
It's good news for former Woodward students who miss Wake Up and Workout. BOKS will give kids a chance to burn energy while having fun before the school bell rings.
Unfortunately for families, it's not volunteer-run. So participating students will have to register and pay for the classes.
The BOKS program is part of a movement across the nation:
BOKS (Build Our Kids' Success), an initiative of the Reebok Foundation, is a before‐school physical activity program aimed to get children moving in the morning and their brains ready for a day of learning.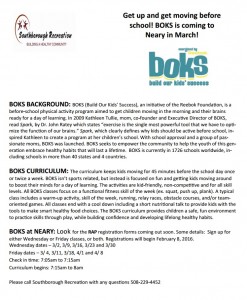 The program will be offered as a Neary RAP class. (Hmm. Shouldn't it be RBP?)
The classes will be offered on Wednesday and Friday mornings starting in March. Kids can sign up for one day or both.
Each of the two 45-minute 5-week classes costs $40.  Registration will open February 8th.
For more details, click on the flyer to enlarge. To register, click here.