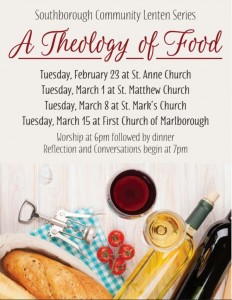 The United Parishes of Southborough are inviting the community to their upcoming Lenten series.
It's the 14th year that town churches are coming together in observance of Lent. (And this year, a Marlborough Church is included in the series.)
All are welcome to join them for prayer, presentations, conversations and reflection.
This year's theme is A Theology of Food.
The series will take place over the following four Tuesday evenings:
February 23 at St. Anne Church
March 1 at St. Matthew Church
March 8 at St. Mark's Church
March 15 at First Church of Marlborough
Worship begins at 6:00 pm followed by dinner. Reflections and conversations begin at 7:00 pm.