Our baseball diamonds are buried in snow. But the groundhog told us last week that spring is around the corner. (And if you can't believe that prognosticator, who can you trust?)
Regardless of when spring actually hits, the registration deadlines for spring baseball, tee-ball and softball are looming. So, it's time to sign up:
Southborough Little League's baseball deadline is February 18th. (Past that, there are late fees and wait lists due to player limits.)
The league's T-Ball sign up is by March 1st
And the final deadline for Northborough-Southborough Girls Softball is March 14th.
More details on all of those are below. 
Southborough Little League (for Baseball and T-Ball):
Southborough Little League is pleased to announce that Spring Registration for players aged 4-16 is now open!

Registration for players in Single A baseball through Jr./Sr. League will close on February 18, 2016 to coincide with the opening of Red Sox Spring Training. Thereafter we will add a $50 late fee to any registration and will put the player on a waiting list so don't delay. We will also have a player limit on Jr./Sr. teams so it will be first come, first served.

T-Ball registration will remain open until March 1, 2016 and will not have any late fee.

To register, please follow these instructions:

Click "Register Now" in the upper-right hand corner of southboroughlittleleague.org
You will be required to Login to your existing account or create a new one if you are new to the program
Choose your Registration Category – "Single A through Senior Divisions" or "Tee Ball"

. . . For any registration questions please email info@southboroughlittleleague.org
Northborough-Southborough Softball
The softball association's focus is:
creating a positive sporting and social environment where the ideals of good sportsmanship, teamwork, honesty and fair play are core, with secondary importance placed on winning. Our goal is for each player to have fun while gaining a rewarding softball experience and developing skills in fast-pitch softball.
Their pitch includes the promise that the late April through June schedule is coordinated to "minimize conflicts with spring soccer, dance recitals, school events and Girl Scouts."
The Northborough Southborough Softball program offers teams for girls born from 2000-2011.
Divisions are determined by girls' ages of December 31st: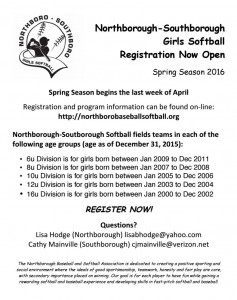 6u Division for girls born Jan '09 to Dec '11
8u Division for girls born Jan '07 to Dec'08
10u Division for girls born Jan '05 to Dec'06
12u Division for girls born Jan '03 to Dec '04
16u Division for girls born Jan '00 to Dec '02
After March 14th, registration will be closed with wait list only.
For more information, click on the flyer.
To register, visit their website.