The Open Space Preservation Commission is co-sponsoring a Winter Wonderland event with Chestnut Hill Farm Trustees.
On Saturday, February 20th, residents can enjoy winter activities at the farm. (Though you need to bring your own equipment.*)
The farm will be open from 10:00 am – 2:00 pm for use by sledders, snowshoers and cross country skiers.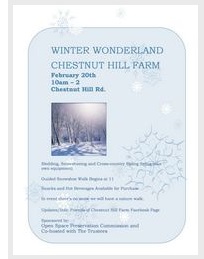 If you have snowshoes, you can join a guided walk beginning at 11:00 am.
If the snow melts away between now and then, OSPC will hold a nature walk instead.
The event is free. But bring your wallet, since snacks and hot chocolate will be for sale that day.
*[Note: I understand you can rent snowshoes and cross country ski equipment through EMS in Northborough, though advanced reservations may be necessary.
(If any of you have tips on other rental options, feel free to share in the comments below.)]