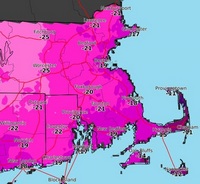 The kids will be excited for the start of school vacation this weekend. And with snow on the ground, they're likely to be clamoring to sled and ski.
Unfortunately, it's not going to be an ideal weekend for frolicking in the snow.
Southborough Emergency Management warns that wind chills will dip to extremes over the weekend.
The National Weather Service is forecasting that 7:00 – 8:00 am on Sunday morning, the wind chill temp in town will be 25 below zero.
Here's a look at hourly temps and wind chills over the weekend:

And here's SEMA's warning:
Winter is certainly here and is about to bare down on us with some seriously cold and dangerous temperatures over the next few days. These will present with serious hazards to life/health and properties (that don't have adequate or loose heat). Elderly, Children and those with breathing conditions (ex. asthma) will be at the greatest risk. Exposed skin on anyone will be damaged very quickly and times almost instantly. There are also the hazards of fires from space heaters and carbon monoxide poisoning in homes and vehicles.

Southborough has plans in place to open a warming center, if the need arises.

Ambient temperatures will struggle to get into the double digits with wind chill factors getting down as low as -32 degrees especially Saturday – Monday.

Next week temperatures will warm up but with it will come the potential for an array of potential precipitation Tuesday: Rain, Ice & Snow. The tracking models are too vague at this point to know if it will be snow or rain but if it falls in-between as freezing rain or icing we could be in for some issues.
Here are some safety tips and frostbite information included with the warning: