Think of all the joy you'll find, when you leave the world behind. . .
This week, casts of Southborough students hope to draw audiences in to a world of imagination with pirates, mermaids, beloved fairies, and a very famous Lost Boy.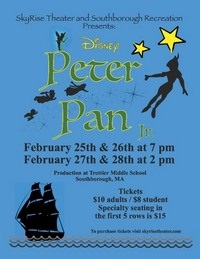 The Skyrise Children's Theater production of Peter Pan Jr. takes place this Thursday – Sunday in the Trottier Middle School auditorium.
Tickets should be purchased in advance, online.
The show stars Southborough 4th & 5th graders, mostly from Neary School.*
As in past years, performers were split into two casts, each putting on two shows.
Looking to make sure you attend the show with your friends and family?
Click here for the cast lists. You can also check out the faces in the cast photos below. (Click thumbnails to enlarge.) 

Cast Pan
Thursday, February 25th @ 7:00 pm
Saturday, February 27th @ 2:00 pm
Cast Hook**
To reserve seats and purchase tickets, click here.
*The Neary drama program is a special after-school offering through Southborough Recreation. It is geared to Neary students, but open to any 4th & 5th grade residents.